NEWS FLASH
Parrot Holiday Schedule
We wish you and your family a happy and safe holiday season. Please note that Parrot will be closed for the following days:
• Thanksgiving: Thursday November 25th and Friday November 26th
• Christmas Eve: Friday December 24th
• New Years Eve: Friday December 31st

NEW @ PARROT
Introducing: Mary Dawley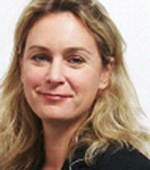 We're really excited to introduce Mary Dawley, and welcome her to the team here at Parrot as a Representative of Imaging Services. Mary has a rich background overlapping with our own- she has been a marketing professional to the interior design community in Boston for more than 20 years. Interior designers came to rely on her sharp sense of pattern, design and color and in the past few years, those talents have evolved into her also providing fine art solutions to these clients for their projects.
We met Mary through her company Chestnut Design, which has primarily focused on identifying and procuring art that ranges from unique commissioned pieces to tasteful prints based on the needs and budgets of her clients. She came to us with a unique project that her client needed our help with – the opening of the new Heywood Hospital in Gardner, MA. Scanning a collection of historic photographs and painting by talented artists from the region, we reproduced several of the pieces at over 5' x 8'; not something that can be done on a conventional wide-format printer. Combining the capabilities of our Cruse Scanner and our Epson 11880 64" printer, we were able to give her client exactly what they wanted: Grand Format painting reproductions.
We knew a great team when we saw it.
Mary saw this as an opportunity to bring our unique services to her existing client base, as well as joining our amazing group of artists, museums, galleries and interior designers to bring them, as well as their clients, the benefits and capabilities of our Imaging Services. We see this as a chance to offer more personal attention, service and Mary's unique talents to all of our current, and new Imaging Services clients… You can contact Mary directly at mary@parrotcolor.com. Drop her a note and say hello!

MUSEUM SPOTLIGHT
The Springfield Museums
We like to call attention the special places we see in our travels, and new home of the Indian Motocycle Museum, long a labor of love for a private Springfield couple, and the most complete collection of Indian Motocycles in the entire world (yes, "Motocycle" is the correct spelling of the original company) now in its new home in a brand-new building at the Springfield Museums certainly fits that description.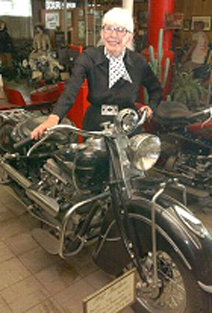 The original collection was housed in a private building on Hendee Drive in Springfield, at the site of the original Hendee Manufacturing factory and the original Indian plant. Until 2007 it was presided over by Esta Manthos (shown here), who, at 91, donated her entire collection of over 54 motorcycles and memorabilia to the Springfield Museums.
The exhibit is simply breathtaking to anyone who is a fan of motorcycle history, but also to those fascinated by the rich history of manufacturing, invention and ingenuity that found its home in Springfield. There's another factor at play here too. In these times, when money is tight and patrons are hard to come by, the Springfield Museum was able to see the importance of this remarkable collection and not only house it, but erect an entire building to give the collection its rightful place.
The Springfield Museums have a lot to offer – it's actually a collection of six museums: The Wood Museum of Springfield History, the Springfield Science Museum, the George Walter Vincent Smith Art Museum, the Connecticut Valley History Museum and the D'Amour Museum of Fine Arts, all on one connected campus – including none other than the wonderful Dr. Seuss National Memorial Sculpture Garden. At about a 90-minute drive from Boston, it's one of the best day-trips around, and, if you include the Basketball Hall of Fame, also in Springfield, a great weekend museum jaunt.
The Springfield Museums site is here: http://www.springfieldmuseums.org/
Additional information on the Indian collection can be found here, at www.thunderpress.net.
and photos of Esta and the actual move can be found on masslive.com.

PARROT IN THE NEWS
Coming Soon! David Saffir Media Evaluation
David Saffir has been working on an evaluation of some of our favorite media. His preliminary post is here, on his photography blog: davidsaffir.wordpress.com
…and after a conversation with him today, his enthusiasm for our paper is truly inspiring! His favorite, at this point, is our Angelica Natural White Textured. He said it fills a gap left by all the other fine-art watercolor papers, and that he simply loves working with it, especially for his Black and White images.
Fine Art paper is, if nothing else, an intensely personal choice. We like to compare it to matching a fine wine with a wonderful meal: there's no right choice, there's the choice that's right for you, for your image, and for your audience. It's wonderful to be able to see how an artist like David responds to some of our favorite selections. Look for an update within the next few weeks with more information from David.