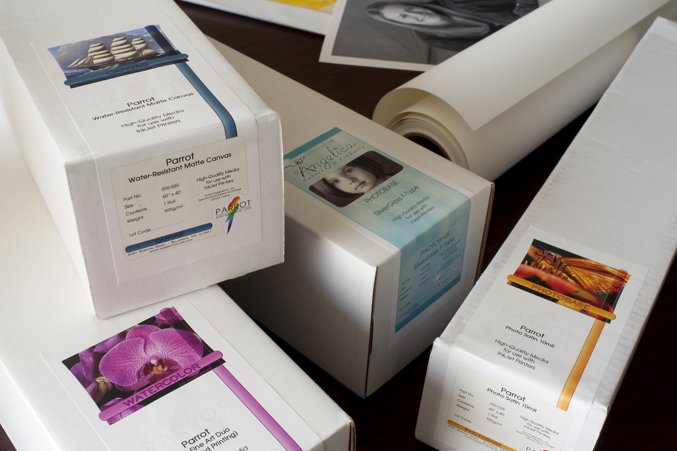 We here at Parrot Digigraphic are celebrating our long tradition of collaboration and partnership with Photographers and Fine Artists with the release of an entirely fresh re-design by designer and illustrator Jennifer Manganello for our Angelica and Parrot inket media labels, featuring the work of Photographers Bob Bergeron, David Saffir, Dr. Nicholas Hellmuth and Thomas Balsamo.
Parrot has worked in collaboration for nearly two decades developing media that meets the needs of fine-art reproduction, such as the collections produced by Bergeron at Tri-Color Graphics, the delicate and subtle Black and White tones of Thomas Balsamo's sensitive portraits… or the vibrant color pallets of the work of David Saffir and Dr. Hellmuth. Through these partnerships Parrot has developed a media line without equal, including Parrot and Angelica Fine Art Watercolor papers, high-gamut Canvas, gloss, matte and luster Photo media as well as a versatile array of vinyl and film signage and display materials.
From John Lorusso, President of Parrot Digigraphic:
"We have a long history of collaboration with artists and photographers, and we feel that this is a good start in honoring our relationship with our valued partners. We greatly appreciate the support of our friends, clients, and colleagues."
Lorusso continued: "Fine Art papers are like the finest wines – the choice of the right paper for an image, or series of images is an intensely personal decision, and intimately linked with the creative process. At Parrot, we're constantly striving to give our clients the finest materials to select from."

For more information of the featured photographers, see their respective websites:
Bob Bergeron: Tri-Color Digital – Fine digital printing, scanning and art reproduction services
Thomas Balsamo: Portraits by Thomas
Dr. Nicholas Hellmuth: Flaar Reports – Imaging Equipment testing and evaluation.
David Saffir: David Saffir Photography – Commercial and Fine Art Photography, Fine Art Printmaking, Photography Workshops