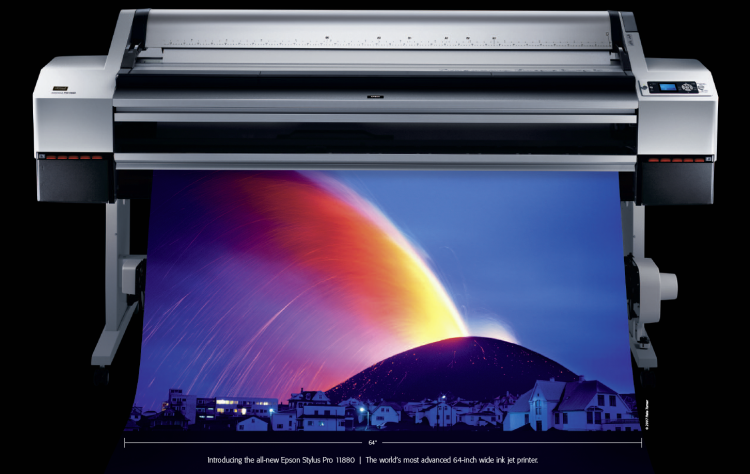 You can't hardly run a tool like the Cruse Scanner and be limited to old-school ultra-wide printers or 44″ wide printing, now, can you?  We think not.  To keep the stable fresh, we just updated to the best ultra-wide possible.  Introducing the latest and greatest in a 64″ wide printing machine- the Epson Stylus Pro 11880!
This printer has the remarkable Epson UltraChrome K3 with Vivid Magenta inks, the improved MicroPiezo® TFP print head, real-time automatic switching between Matte and Photo Black inks, automatic nozzle verification and cleaning, and more. In Epson's words: "The result is the world's most advanced 64-inch wide photographic printer".  We have to agree!
Combine that with our Angelica and Parrot ultra-wide media and it opens up a whole new world of printing capabilities- scanning and printing oversize paintings and artwork at life-size and bigger.  Whether you're an artist with huge originals, a gallery looking to produce editions at actual size, or even a commercial lab with 44″ printers and the occasional need for the width of the Stylus Pro 11880, give us a shout, or stop by and see the new baby.  (info@parrotcolor.com)
Here, just for the drool factor, is the list of features from the Epson site:
Nine-Channel MicroPiezo TFP Print Head
Print head design capable of handling nine separate ink channels
One-inch wide high-performance print head with 360 nozzles per channel
Low vibration meniscus control for highly accurate dot shape and placement
All-new ink repelling coating to dramatically reduce nozzle clogging
Eight-Color Epson UltraChrome K3™ with Vivid Magenta Ink Technology
High-density pigments for an extremely wide color gamut
New formulation of Magenta pigments for extreme blues and purples
Professional print permanence ratings for truly sellable quality prints
High-gloss Microcrystal Encapsulation™ technology for reduced gloss differential
Superior scratch resistance from improved pigment and resin chemistry
Color is stable immediately after printing – no short-term color shifting
Produces a black density up to 2.55 with an L* value of 2.9*
*Data based on Epson Premium Luster Photo Paper (260)
Epson AccuPhoto™ HD Screening Technology
Advanced screening algorithm resulting in prints with superior color and clarity
Maximum resolution of 2880 x 1440 dpi for incredibly sharp text and line art
Extremely accurate fine blends and photographic transitions
Variable-Sized Droplet with TFP Technology
Produces variable-sized droplets as small as 3.5 picoliters to greatly decrease print times while optimizing photographic quality
Exotic Thin Film Piezo (TFP), along with Low Vibration Meniscus Control technology precisely controls the curvature of every ink droplet within each nozzle before releasing it onto the media. The result is extremely sharp and accurate placement of ink droplets for the ultimate in photographic print quality,
Advanced Black-and-White Printing Technology
Unique driver technology takes full advantage of our three-level black system to produce professional black-and-white prints from color or grayscale image files
Produces a truly consistent print with no color crossover or color cast
Some of the world's greatest black-and-white photography has been printed using this technology
Automatic Real-time Black Ink Mode Switching
Printer utilizes two different black ink modes Photo Black or Matte Black
This innovative solution optimizes black ink density for various media types, dramatically improving final print quality
Three-Level Black Ink Technology
Simultaneously uses Black, Light Black, and Light Light Black inks
Significantly improves the gray balance while eliminating colorcasts
Outstanding highlight-to-shadow grayscale accuracy for a smoother tonal range
Virtually eliminates any bronzing of the basic pigment chemistry
Enhances the ICC profiling process for ColorSync™ and ICM™ workflows
Superior Connectivity
Standard connectivity includes one USB 2.0 and one Gigabit Ethernet port
Professional Epson Photographic Drivers for Macintosh® and Windows®
Fully supported by most leading third party RIPs and workflows
Professional Media Handling with Automatic Roll Media Take-Up Reel
Prints on virtually any media type, in roll or cut sheet, up to 64-inches wide
All media is front-loaded via a unique straight-through media path
Accurate automatic loading of cut sheet media up to 64-inches wide in a variety of weights up to 1.5mm thick posterboard
User-adjustable Roll Media Spindle accepts either 2-inch or 3-inch media cores
Produces impositions based upon a work-and-turn process, allowing for printing on both sides of certain media types
Built-in Automatic Cutting System supporting most media types
Standard Automatic Roll Media Take-up Reel for unattended production of long print runs
Optional Retractable Fabric-Based Media Bin safely captures multiple prints up to 64″ x 36″
Automatic Media Bar Code Tracking and Identification System
System automatically tracks media type, remaining length, media width, etc.
Data is stored within the barcode and printed at the edge of the roll before unloading
Reloading partially reused media rolls is now very efficient with less chance for mistakes
Epson Intelligent High-Capacity Ink System
Pressurized ink cartridge technology ensures reliable ink delivery at all printer speeds, while dramatically reducing the physical size of the ink cartridges
Nine individual 700ml (fill vol.) ink cartridges
On-the-fly ink cartridge replacement for increased productivity
Unique Printer Activity Lighting System
Nine individual amber LED lights provide live feedback about ink and printer activity
Automatic Head Alignment
Built-in sensor reads printed data for highly precise alignments of all color channels
Aligns both single and bi-directional print modes
Automatic Nozzle Verification and Cleaning
Embedded sensors quickly verify nozzle status without using media
System automatically performs a head cleaning if required
Nozzle verification is performed in under 30 seconds
Nozzle verification process consumes less than 1 ml of ink
Can be set to automatically perform check before each job; periodically;
or can be turned off
True BorderFree™ Roll-Based Printing
Capable of printing off both left and right edges of roll based media (up to 54″ wide), while automatically cutting top and bottom edges to produce a full-bleed print on all four sides
Fully trims finished prints more accurately and safely than by hand
High Performance Print Engine Speeds
Utilizing our latest print head technology, the Epson Stylus Pro 11880 printer is among the fastest wide-format printers in the industry.
| | | | |
| --- | --- | --- | --- |
| Print Mode | 16″ x 20″ | 20″ x 30″ | 40″ x 60″ |
| Normal – 360 dpi HS | 0:50 | 1:24 | 4:08 |
| Fine – 720 dpi HS | 3:09 | 6:19 | 19:45 |
| SuperFine – 1440 dpi HS | 4:42 | 8:17 | 25:52 |
| SuperPhoto – 2880 dpi HS | 7:39 | 13:24 | 42:10 |
* HS = High-Speed Print Mode (Bi-directional Print Mode) | Print speeds are shown in min:sec
Based upon print engine speed only. Total throughput times depend upon front-end driver, RIP, file size, printer resolution, ink coverage, networking, etc.
Epson PreciseColor™ Manufacturing
Unique production technology to ensure printer-to-printer color consistency
Colorimetric calibration is performed during the manufacturing process
This process automatically evaluates and adjusts the color performance of each printer
The result is extreme color repeatability for demanding color performance over time
Completely eliminates the need for internal printer calibration devices or procedures