Parrot Digigraphic is committed to fulfilling the vision of the artist. Whether faithfully reproducing the artist's work, or working with the artist to enhance and augment the original, we use the best that digital imaging has to offer- tools as well as skills.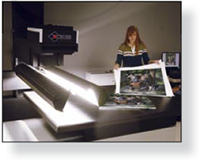 • Fine Art Original scanning: Using systems like the Cruse Digital scanner, capable of over 48x72" original scans, the Betterlight scanning cameras, or our Kodak iQsmart film and reflective scanners, we are able to capture the most information with the highest degree of control. Take a look at our Cruse Digital videos for an idea of what this scanner is capable of.
• Standard scanning services: Although we are tailored to working with the exacting demands of the Fine Artist, we also understand the world of photography, commercial pre-press, and many other industries. Our clients include Architectural and Cartography firms, Museums, and the Military. Our equipment, pricing and production capabilities can meet every requirement of even the toughest production requirements.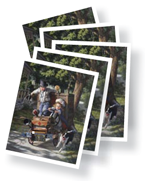 • Printing services: Equipped with a range of printers including the Epson and Hewlett Packard ultra-wide archival Giclée machines as well as our own proprietary media, we have perfected color management and Photoshop production to provide the most faithful prints available- whether from original Fine Art work or from scanned, digitally produced or digital camera files.
• Training, Consulting and Support services: We are uniquely equipped to help you with your equipment, software or skills to bring you to the highest level of quality and productivity. We have a foundation of decades of manufacturer training, testing, research and development as well as simple hands-on experience in a production environment. Whether you simply need help getting your systems up and running, or need an entire system designed and installed, we can get you up to speed with the right workflow.
For our pricing information, our brochure and answers to any questions you may have, please drop us a note, or click this link for our pricelist and brochure (Acrobat Reader Required).
We're here to fulfill your vision, with the highest quality digital reproduction - one pixel at a time!